For most of us, the kitchen area forms the center of our home and living spaces. Filled with electronics and gadgets, the kitchen, therefore, deserves a good amount of consideration when undergoing a remodeling project. Considered as the most complex and expensive room by seasoned builders, it is important to set some ground rules before embarking on a kitchen remodeling project. Some handy tips are listed below.
Kitchen Island
A kitchen island is a multifunctional feature that can make working in a kitchen much easier. You not only get more working area, but it also doubles up as storage and a breakfast counter. While having a kitchen island is a great idea, don't install one if you don't have the required space in your kitchen.
Electrical Work
If you are remodeling your own kitchen, then make sure that you are aware of the electrical code requirements that you must follow to avoid hazardous situations in the future. It is always a good idea to hire a professional for finalizing your electrical drawings.
Finalize the Layout
Small renovation projects are easy enough to carry out. However, if you are looking at taking out the wall and opening up your kitchen space, then you need to be aware of the structural consequences that it may have on the rest of the home. Getting a professional to help with the design can make the space feel bigger and get more storage and features into the same space.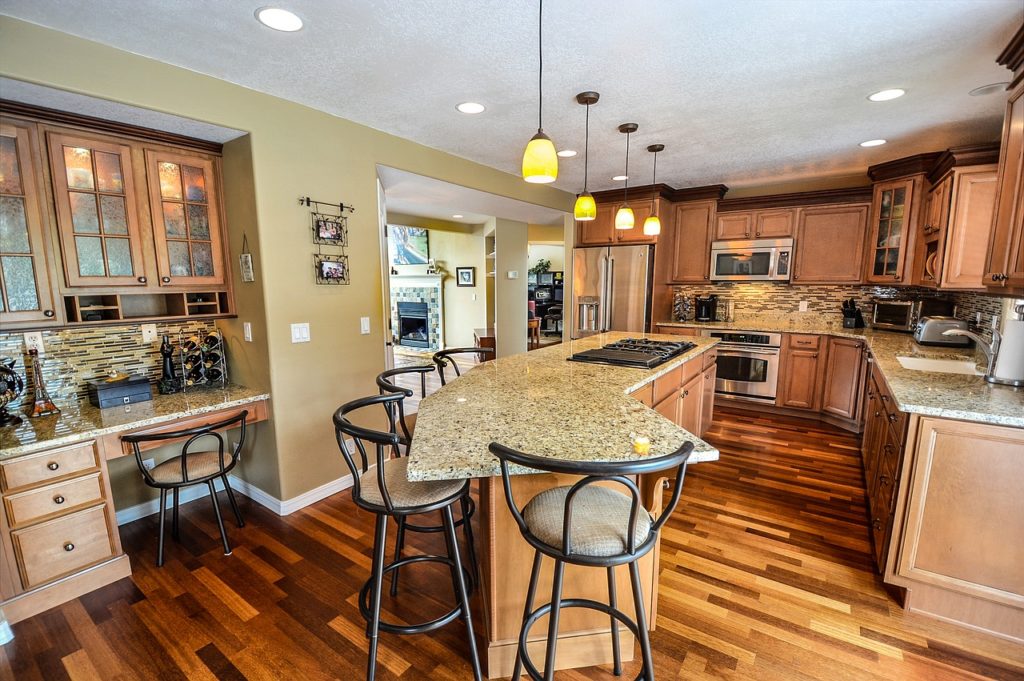 Flooring
Even though the kitchen usually does not get categorized as a wet-area, it is best to select a more practical flooring option. Find out how the flooring runs under the drawers, appliances, and cabinets. It is always a good idea to remove appliances like dishwasher before running the flooring so that they don't get trapped in.
Cabinetry
Take stock of the existing situation and make a note of what you require from your cabinets. Do a gap analysis and then start designing the cabinetry. Also, if your kitchen space and countertops are unusually designed then this area will definitely require some in-depth analysis before you go ahead and order the cabinets.
Lighting
Lighting in the kitchen is very important as you work with sharp knives and may read a recipe from time to time. Therefore, be precise when you select the illumination points. Having ample light is not enough. You must make sure that it is installed in the right place as well. Whatever you do, don't forget to install lights right above the countertop.
Ventilation
Good ventilation is a must in the kitchen and most kitchens are originally designed to provide appropriate ventilation above the cooktops. However, if your remodeling project requires shifting the cooktop to a new area, then make sure that the overhead ventilation is moved along with it. While installing a rangehood is not a regulation, it is still recommended by experts.
Sticking to a Schedule
Last but not least, prepare a realistic schedule that is in line with your requirements and stick to it. The kitchen is an extremely functional part of your home. Therefore, any delay can cause additional inconvenience to all the residents.
One last suggestion to follow up on that thought. Put late penalties into your contract. Bad contractors will object and good contractors won't mind.